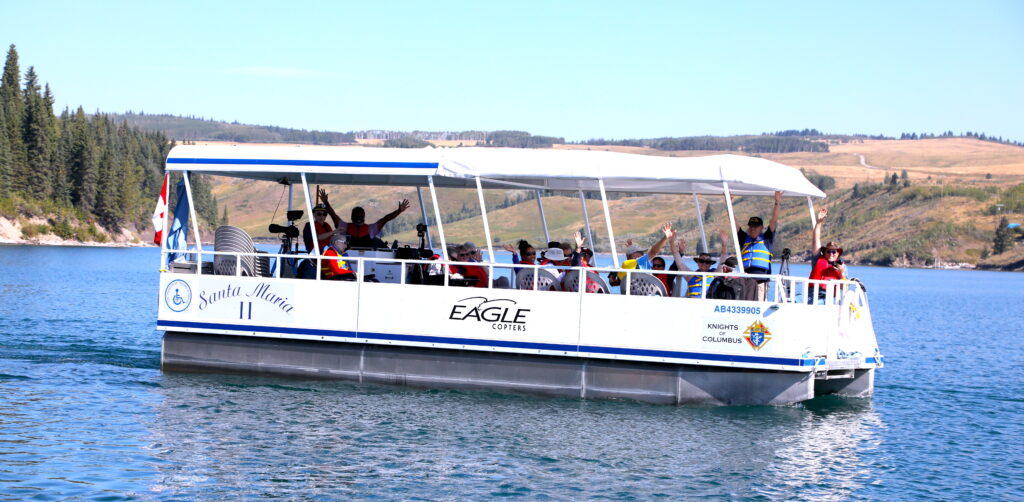 THE HANDI-BOAT CALENDAR OPENS MARCH 1 FOR THE 2023 SEASON
We would like thank to you all for a great season in 2022. We ended the season last year with 32 trips serving 294 of Seniors and 150 of Children. We hope that all enjoyed their time with us and continue with using our service.
WELCOME to all our new and returning clients and those have heard the word and are booking for the first time! The 2023 calendar will open March 1 for bookings from mid-July until the end of the third week in August. Depending on water levels the additional dates may be added to the beginning of the season.
Given the great interest last year, we would like to continue to increase the number of trips that we can offer.
---
WEEKEND TRIPS. Although the calendar is not currently 'available' on weekends, we will make weekend trips available on request.
SHARED TRIPS. For smaller clients who would be willing to share a trip with another smaller client, the Handi-Boat Society will be willing to facilitate such an arrangement.
MULTIPLE TRIPS. For those larger clients who would like to bring out more than one group, we could accommodate more people by making more than one trip in a single day.
If you are interested in exploring any of these options, please notify the Booking Coordinator at handiboatsociety@gmail.com.
The Handi-Boat Society of Alberta is a 100% volunteer organization, but we appreciate donations to help defray our capital expenses and operating costs. We are a registered charity, and we can provide a receipt to anyone interested in supporting our activities.
We currently encourage clients to offer a $200.00 donation per trip to help cover expenses. Our actual expenses are approx. $450.00 per trip. If you would like to sponsor us and have a company decal put on the boat, this can be arranged.
We are always looking at ways to better our organization. Over the past few years we took on a massive project to upgrade the dock at Ghost Lake to allow everyone to enjoy the area especially those whom are disabled. We would like to continue to help. This year we would like to add some kayak loading mechanisms for the disabled. There are many things that can be done with your support.
We are continually looking for volunteers in different capacities. Consider volunteering as a first mate, a captain, project director or even a board member. We guarantee that after a few trips you will see how heartwarming this experience can be.
We would like to thank our clients and donors for their continuing support and look forward to serving you this year. WELCOME ABOARD!
Check our Pictures to view past trips and occasions.
The waiver form can be found here and can be downloaded.
We would like your comments. Please send it to us from the link.
---
©️Copyright 2023 The Handi-boat Society of Alberta created by Tomoko.M